1-Day Grand Canyon Float Tours
South Rim/Tusayan - Arizona
Bus & Float

Tour #1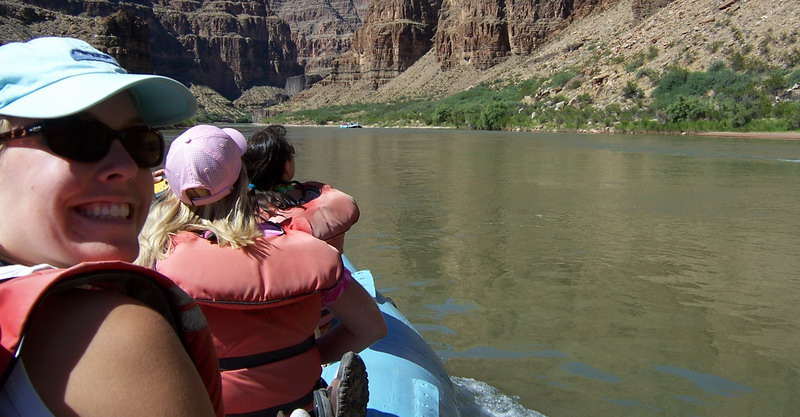 This is your cheapest South Rim option. It departs once each morning from Grand Canyon Airport. If you are staying in Tusayan, you can drive and park at the airport. Those staying at a lodge inside the Park can arrange to be picked up free of charge.
The bus ride is 2.5 hours and goes to Page, AZ. There you'll head to the base of Glen Canyon Dam and transfer to a 19-person, adventure-grade pontoon raft and begin the 15.3-mile float that terminates at historic Lee's Ferry.
En route, you'll cruise past Horseshoe Bend and make several stops at secluded beaches for lunch and an optional walk into a hidden Canyon that features authentic ancient Indian rock art. Of course, swimming is encouraged so dress accordingly.
The bus will pick you up at Lee's Ferry and take you back to the airport or your hotel. Mid-trip you'll break at the Cameron Trading Center, home to one of the largest selections of Indian handicrafts in the area.
There are NO white water rapids on this tour so kids as young as 4 years of age can do it.
Total tour time: 12.5 hours
Plane, Jeep, Float & Bus

Tour #2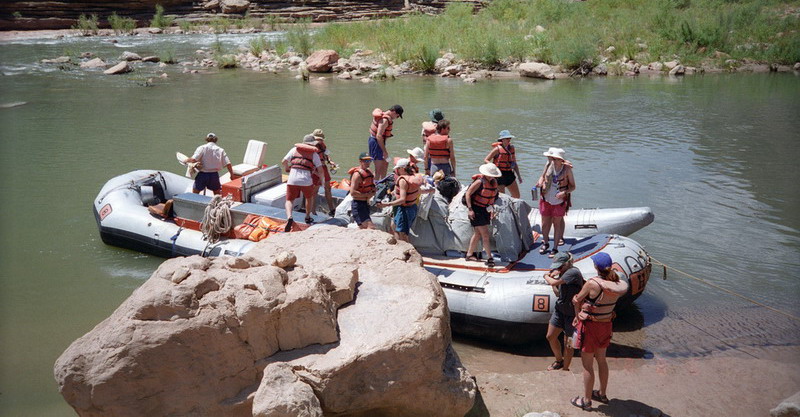 This is deluxe rafting tour has it all. Start by flying direct from South Rim to Page, AZ (60 minute flight), home of Glen Canyon Dam and majestic Lake Powell.
There you'll transfer to a Jeep 4x4 and head out to internationally famous Antelope Canyon and it's majestic slot canyons (the Jeep ride is a "smooth" off-road trip).
The Jeep then turns back to Page and makes for the base of Glen Canyon Dam where the pontoon river rafts are docked. These watercraft are comfortable and can easily handle 19 passengers.
The cruise downstream is 15.3 miles and one of the most remarkable sights you'll see is Horseshoe Bend. There are multiple pullouts including one for lunch and one where you get to see ancient Indian petroglyphs.
The float terminates at Lee's Ferry and you'll board a deluxe bus for the return trip to your vehicle. En route, there's a brief stop at the Cameron Trading Post, which is highly regarded for its souvenirs.
Total tour time: 12.5 hours